Tandoori chicken biriyani is a popular Indian dish. The best juicy tandoori grilled chicken biriyani recipe you will ever have with smokey tandoori flavors. Try out this delicious biriyani at home perfect for a get-together party.
Ingredients:-
Main ingredients:-
• 1 kg- Chicken(cut into big pieces
• 3cups of basmati rice soaked in water for about 20mnts
For marinating chicken
• ½ Cup curd
• 2 tsp – besan
• 1 tbsp – Red Chilli powder
• 1 tsp – Turmeric powder
• 1 tsp – Garam Masala
• 1 tbsp – tandoori masala
• 1 tsp kasoori methi Leaves
• salt to taste
For Biriyani Masala
• 4 – onions, medium thinly sized
• 2 tomatoes thinly sliced
• 1 tbsp each – ginger, garlic, Green chillies and coriander paste
• ½ tsp turmeric powder
• ½ tsp red chilli powder
• 1 tbsp thandoori masala powder
• ½ cup curd
• 1/4 cup – chopped Coriander and mint leaves
For Cooking Rice
• 2 tsp – shahi Jeera
• 2 pieces – Cinnamon
• 2-3 – Cardamom
• 7-8 – Cloves
• 10-12 – peppercorn
• 2-3 – Bay Leaves
• 2 tbsp ghee
• 1 onion thinly sliced
• 5 cups of water
For Garnishing:-
• 1/4 tsp – Saffron soaked in warm milk
• 1/4th cup cashews and raisins shallow fried in ghee
• Fried onions
• Coriander and mint leaves
• 2 tbsp ghee
Method:-
1. Marinate chicken
Place the chicken pieces on a cutting board. Using a sharp knife, cut slits across the chicken about 3/4 of the way through being careful not to cut all the way through.
In a bowl mix all the ingredients under marination and mix well and marinate the chicken in this mixture for at least 2 hours or overnight.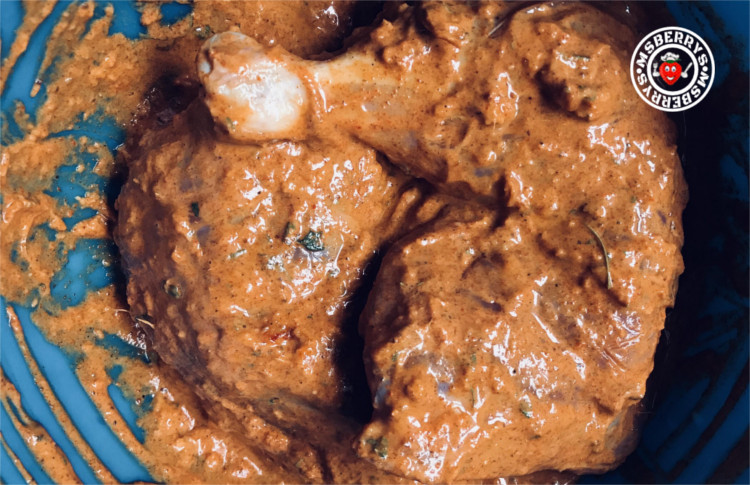 2. Grilling the chicken
Preheat oven to 200 degree C or according to your oven. Place the chicken pieces on the grill apply some oil on the grill before placing the chicken and keep a baking tray below the grill so that the gravy or the water from the chicken will be stored in that tray only. You can use this stock while preparing biriyani masala . Cook for 20 minutes or until the chicken becomes tender and golden. Now flip the chicken and spread some oil on the top. Again cook for another 20 minutes.Remove from oven and set aside.
You can grill the chicken in a grill pan also. add some oil to the pan and place the marinated chicken and cover and cook for 20 minutes in a low flame. flip the chicken add more oil and again cook for ten minutes in low flame.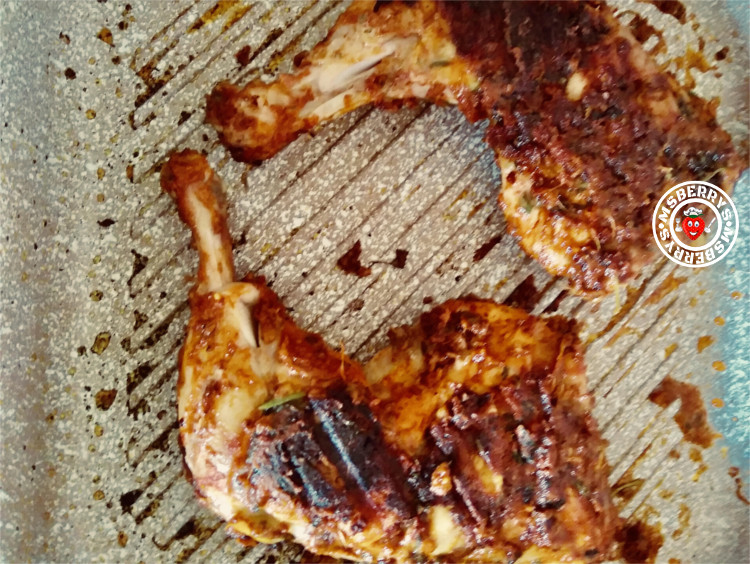 3. To cook the rice
Drain all the water from the soaked rice and set aside. Heat ghee in a vessel saute Shahi Jeera, Cinnamon, cardamom, Cloves, peppercorn, Bay Leaves and onion and saute for a while and add the drained rice and mix well. Add 5 cups of water and mix well. Add salt and 1 tbsp of oil. Cook covered on a low flame until the whole water gets dried. Remove from flame and let it stay aside uncovered and let cool completely.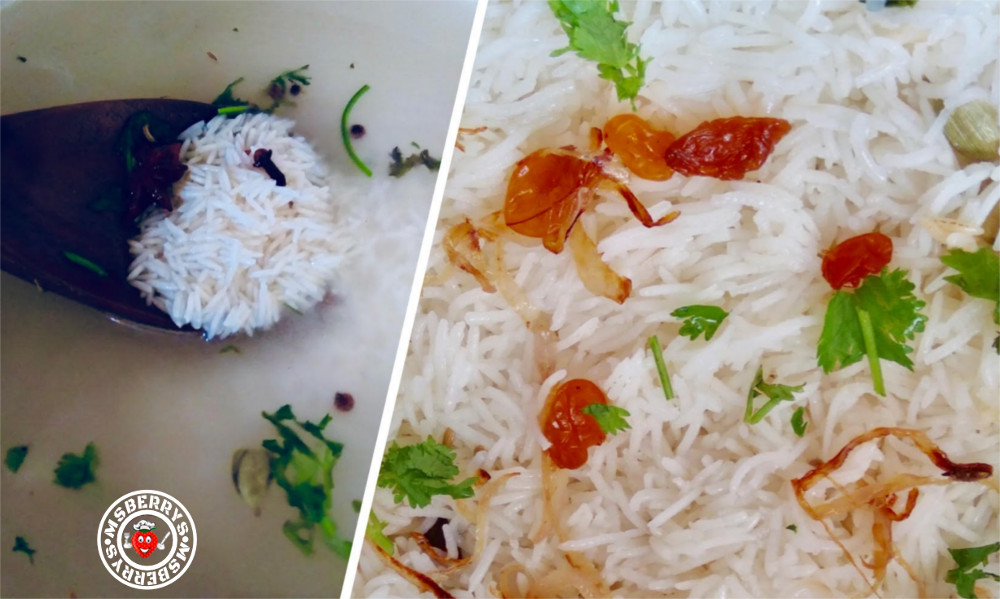 4. For biriyani masala
Heat oil in a pan and add oil and onion and saute the onion until golden colour. Add ginger garlic and green chilli paste and mix until the raw smell goes. Add the masalas and mix well. Add curd and chopped coriander and mint leaves. You can also add chicken stock collected while grilling the chicken. Mix well and cook for few minutes until you get a rich gravy.
5. For layering and Dum
In a greased thick vessel make a layer of cooked rice then a layer of masalas and place the grilled chicken pieces and sprinkle some fried onion cashews and nuts and chopped coriander leaves. And repeat the layer. Finally, add the soaked saffron milk and a tbsp ghee. Seal the vessel and cook for about ten minutes in low flame.
Serve hot with raita and pickle.
Please share with your friends: