Really simple and easy Paneer jalfrezi. Jhal means spicy food. Jalfrezi is usually prepared by stir-frying ingredients. Try this beautifully spiced Indian Cottage cheese stir fried with fantastic flavors of cumin, ginger garlic, capsicum, and other spices. Serve it with fresh parathas.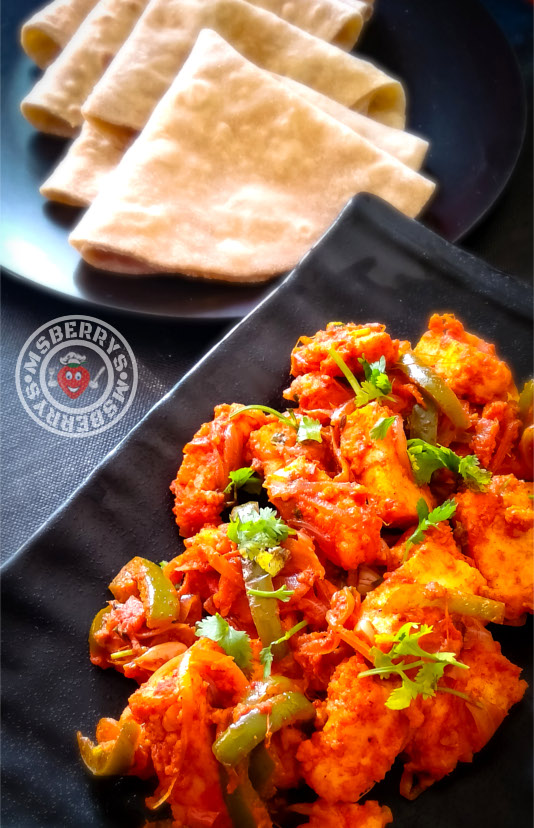 Ingredients :-
Paneer: -100grms roughly chopped
Oil:- 2 tbsp
Cumin seeds:- 1 tsp
Onion:-1 medium sized thinly sliced
capsicum:-1/2 cup thinly sliced
Tomato:-1 medium sized thinly sliced
Garlic:-1 or 2 pods roughly chopped
Ginger:- 1 small julienned
Turmeric Powder:- 1/2 tsp
Kashmiri chilli powder:- 1 tsp
Coriander powder:- 1 tsp
sugar:-1/4 tsp(optional)
salt to taste
Coriander leaves chopped to garnish
lemon: -half of a lemon
Method:-
Take a heavy bottomed pan, add oil and crackle cumin seeds. Add sliced onion and stir fry. Add sliced ginger garlic and keep stirring. Before you add your masalas, keep the flame to the lowest, so that the masalas don't get burnt. Add turmeric powder, chilli powder and coriander powder sugar and salt and keep stirring. If you feel your masala burning add a splash of water. This will keep your masala fresh. Add chopped tomatoes and capsicum and stir-fry. Add paneer and mix gently. Do not cook the paneer for more than 2 or 3 minutes.
Squeeze half of a lemon, add chopped coriander and gently stir. Serve hot with fresh parathas.
Please share with your friends: