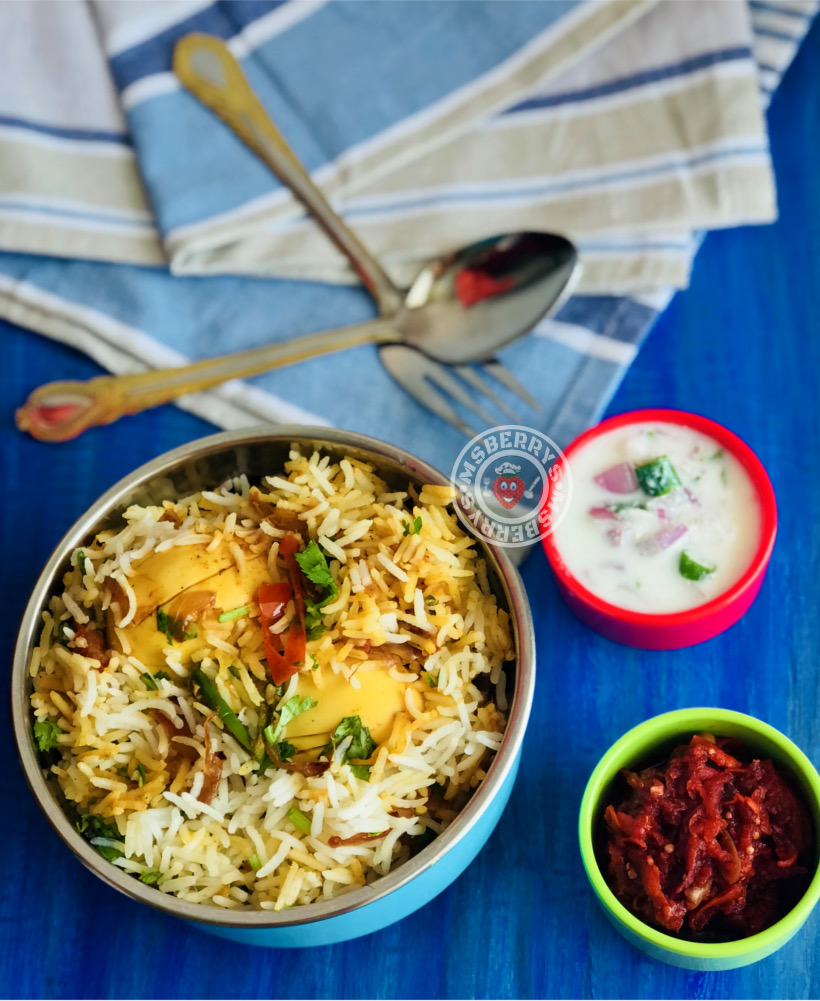 Quick-fix lunch box recipe for your kids. Totally yum and easy to make
To cook rice:-
Basmati Rice :- 2 cups

Onion- ½ of an onion thinly sliced
Whole spices( 1 piece cinnamon stick,3 cardamom pods,1/4 tsp cumin seeds, 1 bay leaf,1 star anise, 3 cloves)
Water – 4cups
Lemon juice :- 1 tsp
Ghee 2 tsp
Salt to taste
To cook masala:-
Eggs -4 nos
Onion:- 2 big sized finely sliced
Tomatoes :-2 medium sized thinly sliced
Green chillies :- 4 nos sliced
Ginger garlic paste- 1 tsp
Turmeric powder- ¼ tsp
Chilli powder- ½ tsp
Pepper powder- ½ tsp
Garam masala- 1 tsp
Salt to taste
Oil 2 to 3 tsp
Chopped mint and coriander leaves – 1 cup
Fried onion nuts and raisins for garnishing
Method:-
• Boil eggs for 8 to 10 minutes, remove shells, prick each egg with fork or knife gently and set aside
• Soak rice for 20 to 30 minutes drain and keep aside
To cook Rice:-
Heat pan add 2 tsp ghee, whole spices, and onion and saute well till it turns translucent. Add rice and stir for 2 to 3 minutes in a low flame. 

• Add water, lemon juice and salt, cover and cook till it is done.
To cook masala:-
Heat oil in a pan. Add sliced onions band saute till it turns to golden brown. Add chillies, Ginger garlic paste, turmeric powder, chilli powder and pepper powder and saute till raw smell leaves.
• Add tomatoes and cook till it is completely cooked.
• Add eggs, half cup water if you need more gravy and mix gently.cover and cook for 5 minutes in low flame.
• Sprinkle garam masala, chopped coriander and mint leaves.
To dum biriyani:-
 In another heavy bottomed pan, spread ghee and layer rice and masalas. Sprinkle ghee on top. Cover and cook on low flame for about 10 minutes. Garnish with fried onion, nuts and raisins. Sprinkle freshly chipped coriander leaves.
Please share with your friends: